DOT/CDL Exams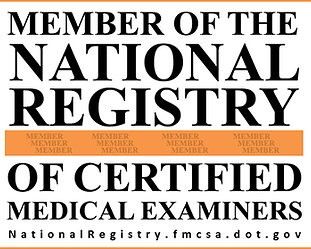 All drivers, interstate or intrastate, are required by the federal government to pass a medical examination conducted by a licensed healthcare professional prior to operating a commercial vehicle. This must be renewed every two years or more frequently, depending upon existing medical conditions.
To perform the CDL exam, the physician must become certified by following the physician training guidelines and passing the national certification test. Having met these federal requirements, you can depend on Dr. Herzog to provide continued services to meet the national requirements.
In our office, your exam will be extensive, fast and efficient having you in and out quickly. Consequent to passing your exam, you will receive a laminated CDL certificate.
What do I need to bring to the exam?
Driver's license
If you are coming in for a recertification you must bring your past DOT exam card.
The Medical Examination Report for Commercial Driver Fitness Determination form will be provided by our office as well as the Medical Examiner's Certificate to qualified drivers after the exam is performed.
Our office provides convenient, cost saving DOT Medical Exams, with same-day appointments available.